The winner of the 2018 Investor of the Year Award

as written by Real Estate invesotr Magazine, June 2018
Announced as the 2018 Investor of the Year, Robin Booth has been committed to real estate investing for a long time. A qualified pre-school teacher by trade, Robin soon realised that all the qualities that made him a good teacher would be a good fit for the real estate investment game. "The values of creativity, diligence, consistency, and the expression of ethical values facilitate the growth of investment opportunities and win-win partnerships," he explains.
Robin has dabbled in several property sectors - from student housing, to Airbnb, and a few projects based in the United States. His passion for real estate is infectious - he doesn't believe that property should only be used to create wealth; but should also create the lifestyle you want. By using several models of creative financing, stealthy negotiation, and limiting risk, Robin has managed to build up an impressive property portfolio.
Seeing a gap in the market
In 2017, he decided to take the plunge and explore the opportunities in student housing: "It's one of the fastest growing industries in real estate, so we decided to step out of our comfort zone and explore this model," he says. Robin explains that they managed to get a good deal under contract from a deceased estate: "The estate took a full 12 months to be processed, and we took advantage of that. While we did the refurbishment for the first four months, we didn't pay any occupational rent. Tie following eight months until the property transferred, we only paid R3 500 occupational rent."
At the same time, they were collecting rent of about R23 000 a month from the newly refurbished student housing, effectively saving in finance costs. Seeing a gap in the market, Robin devised a plan to manage the student housing. "There are no property managers for student housing in the area, so we have since automated a series of situations and professionals to take care of it." This includes inspections, applications, monthly student surveys, and the physical maintenance of the property. Robin explains that they are looking into scaling this model and eventually selling student housing as a turn-key solution to investors.
Making real money from short term letting We've all read about the magic that is Airbnb - it's a great way for property owners to earn additional income from their properties. For Robin, however, this wasn't good enough: "In our case, we successfully created a scalable model where we rent from a landlord, and then sublet that out on Airbnb - with everyone's consent and permission, of course.
This has allowed him to remove nearly all the risk, since he is not liable for financing, repairs, rates, or insurance. "If for some reason we need to terminate the agreement, we can use the 21 day Consumer Protection Act to terminate the lease. And as we know how to find long term tenants, we can find someone to take over the lease, or to enter into a new lease, thereby mitigating all the 'damage' to the landlord in terminating the lease, " Robin adds.
Off course, Robin is realistic about the fact that this model won't work for everyone: "This passive income model is only as good as my ability to convince the landlord in entering into this agreement with us. Most landlords don't like short-term tenanting, and for good reason. But we know how to make this a win-win for everyone."
Living the dream
Proving he knows how to make real estate work for all involved, Robin has been effectively living rent free in his beachfront home in Blouberg. "l love kitesurfing, and I love the idea of landing my kite on the beach and walking into my house," he muses.
In 2016, he saw and fell in love with the home, but the rent was simply too high. Not one to be deterred that easily, Robin devised a plan: "We were willing to take a calculated risk that, ifwe could rent the house out over December, that extra income would subsidise the yearly rent, making it affordable to us."
The plan soon paid off. For that first year, they ended up paying an average of about R5 000 less per month, thanks to the Christmas rental agreement. "But we kept looking for other creative ways to maximise returns," he explains. Since 2017, Robin explains, they have been living in the four bedroom house for free.
By renting out an ensuite room with its own entrance, along with the original plan of renting out the entire home over the holiday period, they have managed to subsidise the entire year's rent. Robin emphasises that they wanted to make sure that the landlord was happy with the agreement: "We wanted to make sure they knew that the property would be well looked after."
They also negotiated a deal with the landlord, avoiding annual rental increases by instead paying for improvements to the property. This means that the property improves for them to rent out, while the landlord is kept happy with a well maintained home.
Getting into developments
The original piece of property that inspired Robin's real estate journey, the school land he purchased in 2004, became a viable proposition in 2017. Still deciding on the best way to move forward, Robin explains that he is looking into several options: "The project could be residential apartments, a shopping mall, it could include a local police station, tourist venues, or a host of other things. It's my job to get the right people on the bus," he explains.
Having been approached by a development company, Robin is aware of the risks of getting involved in a project you don't have knowledge of. He is making it a priority to get the right partners to work with, focusing on the core values of partnership rather than making a quick buck.
Offshore
Robin started investing in the US-market in 2014, but struggled with the local market's private financing and costly terms inflicted on foreign investors. This changed in mid2017, when he came across a difference finance model: "l buy a property subject to the selling keeping their mortgage in place. The title and all rights to the property are mine." Since the loan is not in his name, no credit is needed.
He has subsequently purchased three more properties in this way, and has several more in the pipeline. "This totally changed the foreign investing game and put me on the global market helping other investors from around the world buy property in the USA using the same model," he says.
The takeaway
Robin is focused on building his property portfolio - and knows how to get it done. Being aware of the risks involved with renting out residential property, he decided to focus on securing international tenants willing to pay up their rent in advance - up to two years in some cases. "In 2016 we had a tenant who had paid two years in advance, and in 2017 when they needed to terminate early (as they were starting another business out of town), we had the control of creating a smooth transition to finding a new foreign tenant without any loss of rental income to us," he explains. He takes every mistake or challenge as a valuable learning opportunity: "Each of them can be turned around for future growth and wealth. "
Giving back to his passion for helping children is evident - in 2017 Robin set out to climb and summit the highest altitude Island Peak in the Himalayas. For every metre above sea level climbed, they were able to get $500 000 worth of online courses for parents and teachers donated around the world. "It lets parents and teachers know that they are not islands in bringing up their children," Robin explains.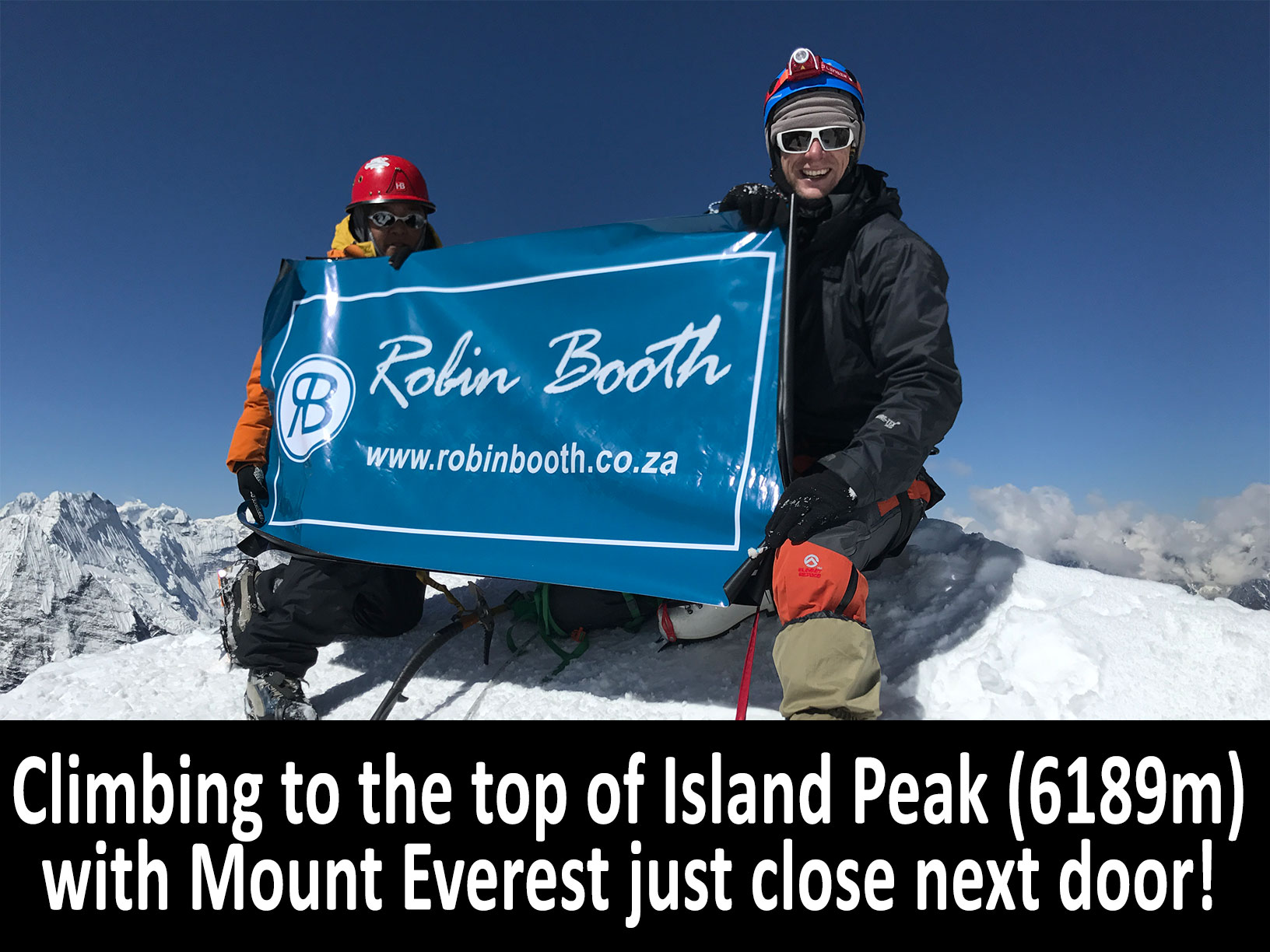 He's optimistic about the future of his real estate journey, explaining that if done right, real estate allows you to create your own path and gives you time to discover new places and take on new adventures. "Real estate is an incredible vehicle to create a lifestyle and legacy for you and your family. And if a pre-school teacher can do this, then so can every South African," he concludes.